2016 race registration opens on July 20 at 15:00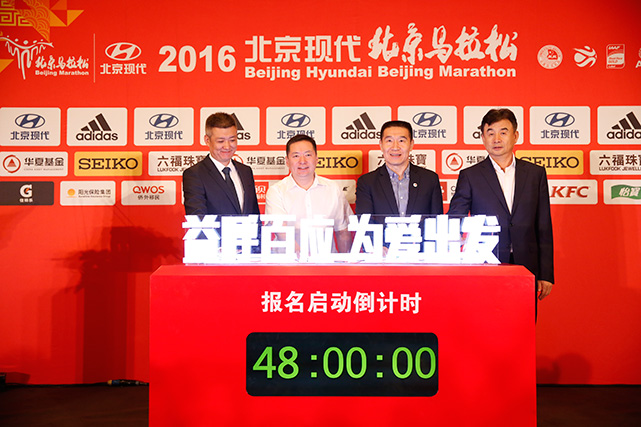 The Beijing Marathon 2016 press conference was held at China World Hotel on 18th July. The Beijing Marathon 2016 plans to start on 17th September. Official registration will open at 15:00 on 20th July. Runners can entry through the official website of Beijing Marathon or the designated app MARAMARA. KFC has been titled the Family Run and that entry will start after the marathon draw.
The start point of Beijing Marathon 2016 remains to be located at the Tian'anmen Square and finish at Beijing Olympic Park. The course route shall be kind of changes. Meanwhile, the entry requirements of Beijing Marathon increased.
As the heading marathon race in China, Beijing Marathon always be the 'Topic Leader' for runners. As stated by Wang Dawei, secretary-general of Organization Committee of Beijing Marathon. More detailed race conduct and higher quality of services will be targeted in 2016.

It is notable that the campaign of 'Run for Charity', sponsored by CFLD, was launched jointly by the organizing committee, together with 15 charity institutes.
Charity will be focused on to brand building up of Beijing Marathon. Every step will be charitable since all runners of this year will run and compete on behalf of a variety of charity institutes.
In order to provide better services to runners, more effort has been put to improve every segment of the race. Beijing Marathon is cooperating with a variety of corporations to facilitate runners' participation of the race.
After the press conference, there was a contract signing ceremony between the Organizing Committee of Beijing Marathon and 4 new sponsors.