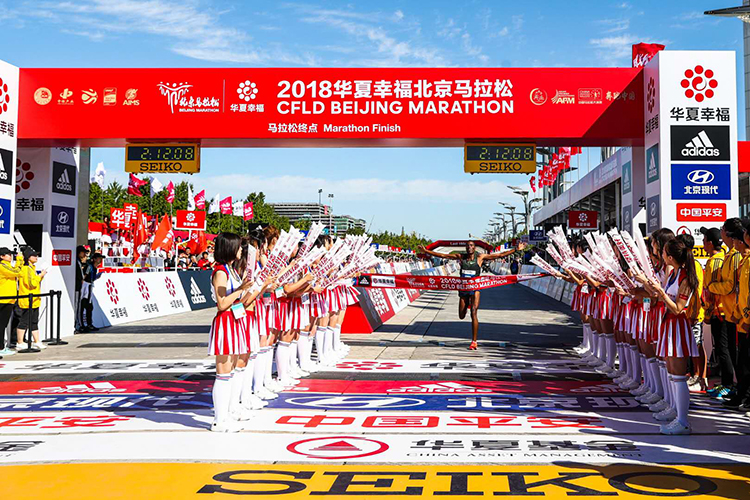 At 7:30 AM on 16th September, 2018 CFLD Beijing Marathon started from Tian'enmen square. President of the Chinese Athletic Association Duan Shijie, Vice Minister of the General Administration of Sport of China Gao Zhidan, Deputy Mayor of Beijing Municipal Government Zhang Jiandong, the CCTV deputy editor Peng Jianming, Director General of Beijing Sports Bureau Zhao Wen, Chairman of China Sports Industry Wang Weidong, Executive President of China Fortune Land Development Company Wu Zhongbing, representative of athletes Xie Zhenye and the representative of sponsors attended the starting ceremony. Participating runners and guests joined in the Chinese national anthem to signal the start of the 38th Beijing Marathon.
2018 is a significant year for Beijing Marathon. It is the 10th anniversary of receiving Gold Label Reward from IAAF as well as the 10th anniversary of Beijing Olympic Games. The organizing committee planned various activities to celebrate the occasion, such as roller skate marathon, the Olympics collection exhibition, and artworks exhibition, aim to promote the Winter Olympics and Olympic Games culture.
There were 111,793 applications for the 2018 CFLD Beijing Marathon, 30,000 runnersfrom 43 countries and regions participated in the race. An intense contest amongst some of the world's elite runners. At the end, Dejene Debela GONFA from Ethiopia finally won the men's race clocking 2:12:08; Seboka Dibaba TOLA from Ethiopia came in second with 2:14:35 and Mogos Shumay SOLOMON from Eritrea finished third at 2:14:40.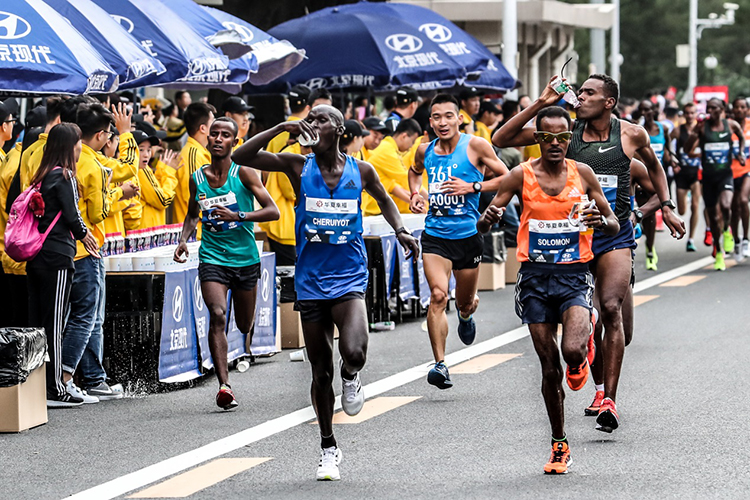 Chinese runner Li Zicheng came in first among the Chinese men's with 2:15:53.
On the women's race, Valary Jemeli AIYABEI from Kenya proved to be the best at 2:21:38, while Eunice Chebichi CHUMBA from Bahrain won the second place with 2:26:56 and Fatuma Sado DERGO from Ethiopia finished third in 2:27:41.

He Yinli was the best Chinese women runner this time with 2:31:45.

This year's event was widely praised for its improved general services and event operations: the health and medical services had added stations along the routes while the cultural activities and showcases proved to be hugely popular. The Beijing Marathon not only promotes participation of sports, it also brings a united sportsmanship spirit to the city.

This weekend's marathon had a record number of 30,000 participants from the world entered the race in Tian'anmen Square, tested their personal limits, and showcased to the world their unabiding strength to reach their dreams. Volunteers, medical teams, cheering crowds and service staff from the organizing committee and the city of Beijing dedicated themselves to the runners and the event, making the 2018 CFLD Beijing Marathon a true sports fest for the world