1. HOST
Chinese Athletics Association
Beijing Municipal Bureau of Sports
2. CO-HOST
China Central Television
3. ORGANIZER
China Olympic Road Running Co., Ltd.
Beijing Sports Competition Administration Center
4. CO-ORGANIZER
Beijing Municipal Party Committee Propaganda Department, Beijing Municipal Public Security Bureau, Beijing Municipal Health Commission, Beijing Environmental Protection Bureau, Beijing Municipal Commission of City Management, Beijing Municipal Commission of Transport, Tian'anmen Square Administration Committee, Beijing Meteorological Service, Beijing Committee of the Communist Youth League, State Radio Regulation of Beijing, Beijing Olympic Park Administration Committee, Beijing City Road Maintenance Management Center, Beijing Public Transport Holding (Group) Co., Ltd., Beijing Subway Operation Co. Ltd., Beijing Electric Power Company, Beijing Investment Group Co., Ltd., Beijing Sport University.
5. APPROVED ORGANIZATION
International Association of Athletics Federations (IAAF)
Association of International Marathons and Distance Races (AIMS)
6. RACE DATE AND START TIME:
7:30 a.m. Sunday, November 3, 2019
7. EVENT:
Marathon (42.195KM)
8. DIVISIONS:
Male Marathon
Female Marathon
9. RACE COURSE
1) Start: Tian'anmen Square, Beijing.
2) Finish: The Celebration Square in central area of Scenic Boulevard in the Beijing Olympic Park.
3) Race Course goes through Dongcheng District, Xicheng District, Haidian District, and Chaoyang District in Beijing.
10. RULES OF COMPETITION
1) The races will be conducted in accordance with the rules and regulations of IAAF, CAA and the Race Organizer. IAAF Road Race Label Regulations also apply to the Beijing Marathon 2019.
2) Roll-call: All general participants are suggested to wear the bib number in front of the chest correctly and arrive at Tian'anmen Square 60 mins before the race start for roll-call. Elite athletes need to arrive at the designated area 40 minutes prior to the race start, and provide their original personal ID or passport to the event staff.
3) Race Start: All participants start at 7:30 a.m. with one shot in the sequence of elite athletes and general participants (In alphabetical ascending order). Wheelchair racing participants need to start at the end of all.
4) Timing
① All participants should wear the timing chips correctly, that will start working when the runner cross the start line. All gun time and net time would be listed on the result certificate. Timing chip is to be released with bib number at Beijing Marathon Expo 2019. No deposit required.
② Timing carpets are placed at the start line, each 5K, half point (21.0975KM), turning point and the finish line. Participants need to go through each timing carpet during the race with qualified race result and race ranking. Result will not be qualified for final ranking if there is any split time point missed.
5) The cut-off time will be enforced at each checkpoint due to limited duration of traffic control, security operation and event operation. The participants, who fail to pass through the checkpoint before the cut-off time, will be disqualified from the race. Those who cannot finish the race are suggested to take event vehicle or public transportation to the finish area for storage bag pick-up.
The cut-off time limits are based on the gun time (not on the net time):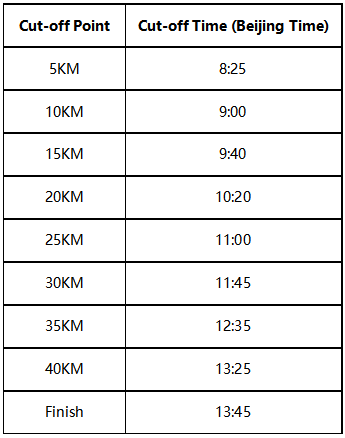 6) Bag Storage and Pick-up: All participants are requested to storage personal belongings by the bib number at designated area of Tian'anmen Square at 5:30-7:15. Do not take any prohibited items and liquid into the start area. Please do not put valuables in your storage bag (such as mobile phone, identification document, cash, keys, credit card, iPad, etc.). Participants should take responsibility for any losses incurred under the bag storage rules.
Bag pick-up will be available until 14:45 (GMT+8) on race day at finish areas. The organizing committee will keep the bags who can not get it on time on the race day for ten working days only, participants need to pick up bag at the organizing committee with your personal ID and bib number. Unclaimed bags will be handled by the organizing committee.
7) Water, Energy Drink and Refreshments Stations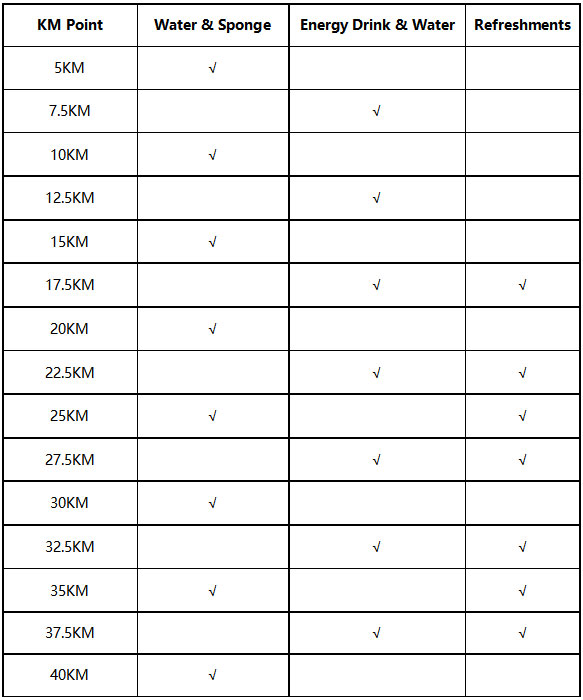 8) Toilets, Spray Station and Environmental Protection
① Temporary toilets are settled at start area, each 1K from 2KM to 5KM point, each 2.5K from 7.5KM to 40KM point and finish area.
② Spray stations are settled by organizing committee along the race course.
③ All participants have responsibility for environmental protection and not free to urinating and discard any trash.
9) Medical Aid
① Medical aid stations will be located at the start area, each 2.5K after 5KM and the finish area. On-site medical staff reserve the right to stop a participant from the race out of the best interest of the participant's health and welfare. Participants should stop racing if ordered to do so by officials. Otherwise, participants are responsible for any medical expense incurred.
② AED first aid service will be provided along the race course as well.
③ Medical volunteers who wear the yellow shirt standing along the course are assisting with medical staffs, please call them or. Participants can ask help from these volunteers when needed.
10) Doping control is conducted under IAAF Anti-Doping Regulations and Chinese Anti-Doping Regulations.
11) Other matters relate to the race please refer to the Official Program.
11. REGISTRATION
1) Age Requirements: All entrants should be over 20 years old (born before December 31, 1999).
2) Physical Requirement: Marathon is an athletic sport of high load and great intensity over long distances. It is also a high risk athletic sport which has high physical demands on participants. Those who wish to participant in Marathon race shall be in healthy condition, have experience in running or have completed training with distance over half-marathon. Anyone who has any of the following diseases are not recommended to participate:
Congenital heart disease and rheumatic heart disease.
Hypertension and cerebrovascular disease.
Myocarditis and other heart diseases.
Coronary artery disease and server irregular heartbeat.
Diabetes.
Having cold symptoms two weeks prior to the race.
Other diseases that is not suitable for sports.
Pregnancy.
3) Race Capacity is 30,000 entries, when the maximum number of entries has exceeded, participants will be chosen by lottery. Please read Registration Notice carefully before registration.
4) Registration Fee and Payment
① Registration Fee: 50 USD/person.
② Selected entrants must pay the entry fee by ALIPAY or PAYPAL before the deadline. If the payment is not received by the due date, the application will be void.
③ Registration fee is not refundable once the selected entrant finish payment.
5) Race Bag Pick-up
① All participants are going to receive email for race number notice, please download or print the certificate out for race bag pick-up.
② All participants need to go to the Beijing Marathon Expo 2019 to pick up personal race bag. Details will be released prior to the race on the official website.
12. AWARDS METHOD
1) Ranking Awards: Top 8 male and female athletes will be awarded.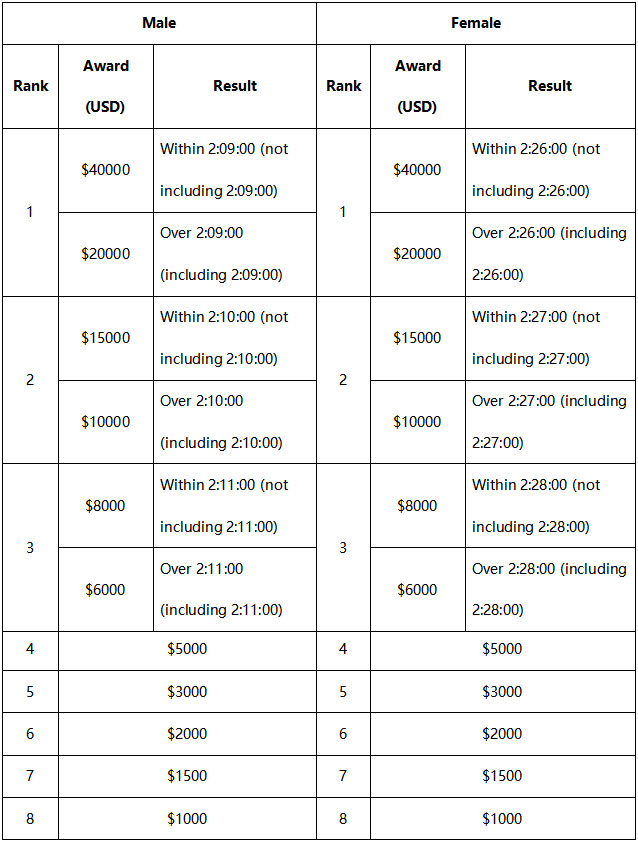 Note: Awards are based on both result and rank achieved.
2) Special Awards for Chinese Participants: Top 3 Chinese male and female athletes will be awarded.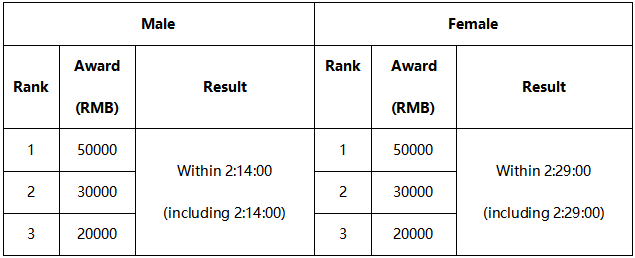 Note: Awards are based on both result and rank achieved.
3) Awards of Breaking course record
Male: run sub 2:07:16 (not include) , $20000.
Female: run sub 2:19:39 (not include) , $20000.
Note: Chinese athletes will receive the equivalent of RMB.
4) All above-mentioned awards will rank by gun time. Athletes will be disqualified if they doping test failed, however, the ranking for all will not be changed.
5) All above-mentioned awards are subject to a 20% personal income tax.
6) Top 3 male and female athletes will be given a trophy and a medal.
7) Race T-shirt, race bag, bib number, timing chip and Official Program will be provided at Beijing Marathon Expo 2019.
8) The participants who finish before the 13:45 (GMT+8) on the race day will be awarded with Post-Race Package, finisher T-shirt and medals.
9) All finishers check results and download finisher certificate on official website 24 hours later after the race. Split time, gun time, net time will be listed on the certificate. Result will not be qualified for final ranking if there is any split time point missed.
13. PUNISHMENT
Video recording are monitoring on the entire race course. Participants will be punished as disqualification from the race immediately, barred for race for 1 – 2 years, barred for life and Chinese Athletics Association may put additional punishments if participants committed any of the followings:
1) Misrepresentation on age when registration.
2) Racing with two or more than two timing chips (including one participant carrying timing chip of the other gender).
3) Racing in relay.
4) Not following the start order and start at non-designated area, false start etc.
5) Continuing racing after cut-off time or back to the course in the midway.
6) Taking any public transportation to finish race, but not running.
7) Crossing the finish line repeatedly or not completing the whole distance but crossing the finish line to get Post-Race Package, finisher T-shirt and medals.
8) Forging bib number or using unofficial bib and timing chip to participate.
9) Not following with staff order. Rioters who disturbing the race order.
10) Uncivil behaviors.
11) Other behaviors against the social security rules.
Consequences arising during the race from enrolling by misrepresentation or transferring entry to another person shall be banned of Beijing Marathon race for life. The Organizing Committee has the right to investigate the responsibility of related persons and appeal to the law.
14. INSURANCE
Insurance will be provided to all participants and race relatives. Full responsibilities will be taken by participants if they fail to buy the insurance caused of incorrect information. Violators with any misrepresentation behavior are not eligible for insurance.
The relevant expenses incurred by the participants for non-competition and non-emergency medical treatments that continue to be accepted due to their physical condition are settled by the participants themselves and the hospital. And then negotiate with the insurance company to deal with in process.
15. CONTACT INFORMATION
Beijing Marathon Organizing Committee
Official Website: www.beijing-marathon.com
E-mail: oc@beijing-marathon.com
Further notice will be announced for unmentioned issues. Beijing Marathon Organizing Committee reserves the right to interpret this rules & regulations.